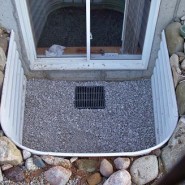 Window Wells are important in many different ways. Window Wells help to keep dirt away from your windows thereby almost eliminating the possibility of water flowing back in through your windows. Window Wells also keep the dirt away from the windows allowing a greater amount of light to be able to enter through the window.
Window Wells are a building code element and should be installed with a large enough projection to allow you to have egress in the event of a hazard in the basement. When installed by an experienced installer, window wells can provide a variety of positive benefits.
Any water that may collect in the well is carried through the window drops, down the wall and into the weeping tile system.
Key Benefits
Keeps dirt away from windows so that no water can flow back in through the windows
Allows light to enter into the basement through the window
Provides egress in the case of an emergency
Window Well Covers
Open basement window wells are accidents waiting to happen and window well grates are the most effective solution for keeping your home safe.
Our basement window well grates are engineered from attractive high quality tempered aluminum that will hold up to 400 pounds, yet are light enough to allow for easy basement window well egress from your home. Our grates won't rust or require painting and offer a unique design that allows 90% of the natural light to enter your basement window well.