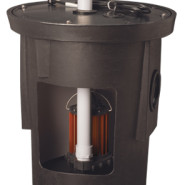 A sump pump is a small pump installed in the lowest part of a basement or crawlspace. Its job is to help keep the area under the building dry and to prevent it from flooding. Usually, sump pumps are installed in specially constructed sump pits. Water flows into the sump pit through drains or by natural water migration through the soil. The sump pump's job is to pump the water out of the pit and away from the building so the basement or crawlspace stays dry.
Basement flooding is a serious problem, having surpassed fire damage as the #1 cause of loss in Canadian homes.  In order to have a dry and flood-free basement, your home requires a well-designed, properly functioning drainage system to drain ground and surface water from around your home. More than 40 percent of Ottawa homes suffer from below-ground wetness. It doesn't take much water to cause thousands of dollars of damage. A moist basement can also lead to mold and mildew growth, bringing with it all its related health and breathing hazards.
Battery Back Up Pump
What good is a sump pump if you have no power? Severe storms are often accompanied by power blackouts. A battery powered backup sump pump may be a prudent investment.
Battery Back-Up Sump Pump, 47 GPM
Fully automatic back-up sump pump systems constantly monitor sump activity and responds instantly.
KEY FEATURES
47 GPM (178 LPM), 8.0A 5-stage charging system
Thermoplastic pump with steel case charger enclosure
1-1/4″ (32mm) NPT threaded discharge; adapts to 1-1/4″ (32mm) and 1-1/2″ (38mm) NPT
High volume ideal for active sump pits
8.0A multi-stage charging system (UL/CUL approved) with steel enclosure provides the strongest battery charge
Plug-in style connectors for quick and easy installation
Audio and visual alarms keep you informed of status at all times
Check valve and battery case included
WARRANTY 12 months from date of purchase or 18 months from date of manufacture, whichever comes first