Wet Basement
Are you living with a smelly, uncomfortable basement? Basement moisture problems are very common, but they don't have to be.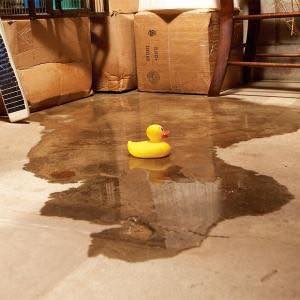 Wet Basement Causes
Wet basements could be caused by a variety of things. One of the most common cause is foundation cracks caused by a house shifting and settling. These tiny cracks allow water can seep in and can worsen with our freeze/thaw cycle, leading to more water seeping in. Other common sources include:
Weeping tile failure
Window Well back-up
Construction and mortar joint leaks
Leaks around pipes for plumbing, gas and electrical
Sometimes, interior sources may be the culprit of basement moisture issues. These may include: overused humidifiers, unvented clothes dryers and poorly ventilated bathrooms.
Wet Basement Diagnosis
Getting the right diagnosis for your basement moisture issues is so important for both your basement and your wallet. That's why it's vital to work with a contractor you can trust. Foundation Works offers free foundation inspections to find the best and most affordable option for your foundation repair. Whether the fix is as simple as a Foundation Crack Repair, a replacement of your Weeping Tile System, or a full Exterior Foundation Waterproofing, you can trust that it will be completed professionally and affordably.
 Exterior Foundation Waterproofing
Exterior Foundation Waterproofing is the most effective way to waterproof basements walls and prevent water from entering the basement. The process involves a few steps to ensure your basement is water- and moisture-free.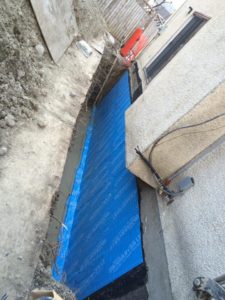 The earth is excavated all the way to the footing. This allows the team to examine existing drainage and the condition of the foundation wall.
If there is substantial damage on a foundation wall, it is repaired before proceeding.
Then, the Blueskin Waterproof membrane is applied. This is a waterproof barrier that is tough and can stretch so it can continue to provide protection even if new cracks develop.
Next, the foundation is wrapped in Armtec's Platon Foundation Membrane*.
Drainage solutions are installed (depending on your home's needs, these may include new weeping tile, new window wells, or a sump pump
Finally the earth is backfilled around the foundation and properly graded to slope away from your home.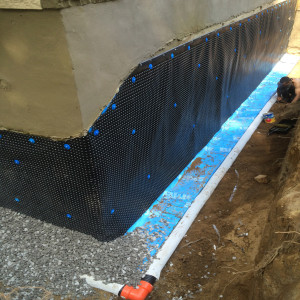 *Armtec's Platon Foundation Membrane is the premium choice in foundation protection. No other damp proofing product performs as well when it comes to keeping water out of your basement.
Platon Foundation Drainage System keeps wet soil away from the foundation wall. Any moisture that may find its way past the membrane is carried to the foundation drain by the air gap drainage path. Platon Foundation Protector is commonly used to waterproof block walls, poured concrete walls, permanent wood, existing foundations and Insulated Concrete Forms (ICF). Read more about the Platon System here.