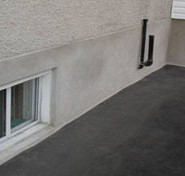 Parging is a type of mortar surface that is applied to foundation of your home to give a more appealing appearance to both older and new Ottawa foundations. There is no structural benefit to parging, it is purely a cosmetic application but when it comes to curb appeal it is undeniable you shouldn't skimp out. The real benefit of covering up those old blocks is to seal the foundation and provide a great appearance.
The foundation Works process is to chip, clean, and remove any old parging. This is followed by applying Weld-Crete, a durable bonding agent, to help create that necessary adhesive layer. Finally, we mix up our "secret" formula of mortar and apply it to your foundation.
Is this what your home looks like? Parging is cracking and falling off all around the house? Foundation Works can help you! Check out our completed jobs pictures below and call us for a free estimate!
Key Benefits of Parging
• It provides a clean looking finish to the exterior of your home.
• Available in a variety of different colours to suit your taste and design.
• Your home will increase your curb appeal and in return increase the resale value of your home. [/box]
Masonry Services
Our masonry services include brick repointing and chimney repair. Brick repointing is an important piece of keeping your home dry. Over time, weathering and decay can cause voids in the joints between bricks which can allow water to enter.
Repointing is the process of renewing the point (the external part of mortar joints) in masonry construction. This involves removal of loose or cracked mortar between the bricks and the insertion of new mortar in its place.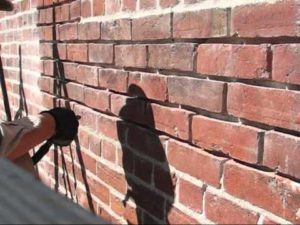 By choosing Foundation Works, a family-owned Ottawa based company, you are choosing the contractor that can get the job done right the first time and on budget. Foundation Works has an outstanding reputation and we have the manpower to complete a project on time. Get a free estimate now.